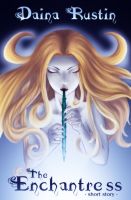 I've finally gotten around to putting my short story "The Enchantress" up on Smashwords. All of you that liked the characters from my Challenge entry, you can read more about them right
here
for free! I hope you will not be disappointed. There's also a bonus story at the end.
If you take the time to read it, I'd appreciate it if you'd leave a review. Even a negative one would be useful, at least I'd know what I'm doing wrong :). It would be great getting some feedback from people. If this one goes well I have a few more short stories involving these characters just waiting to see the light of day.
Thank you all for dropping by!