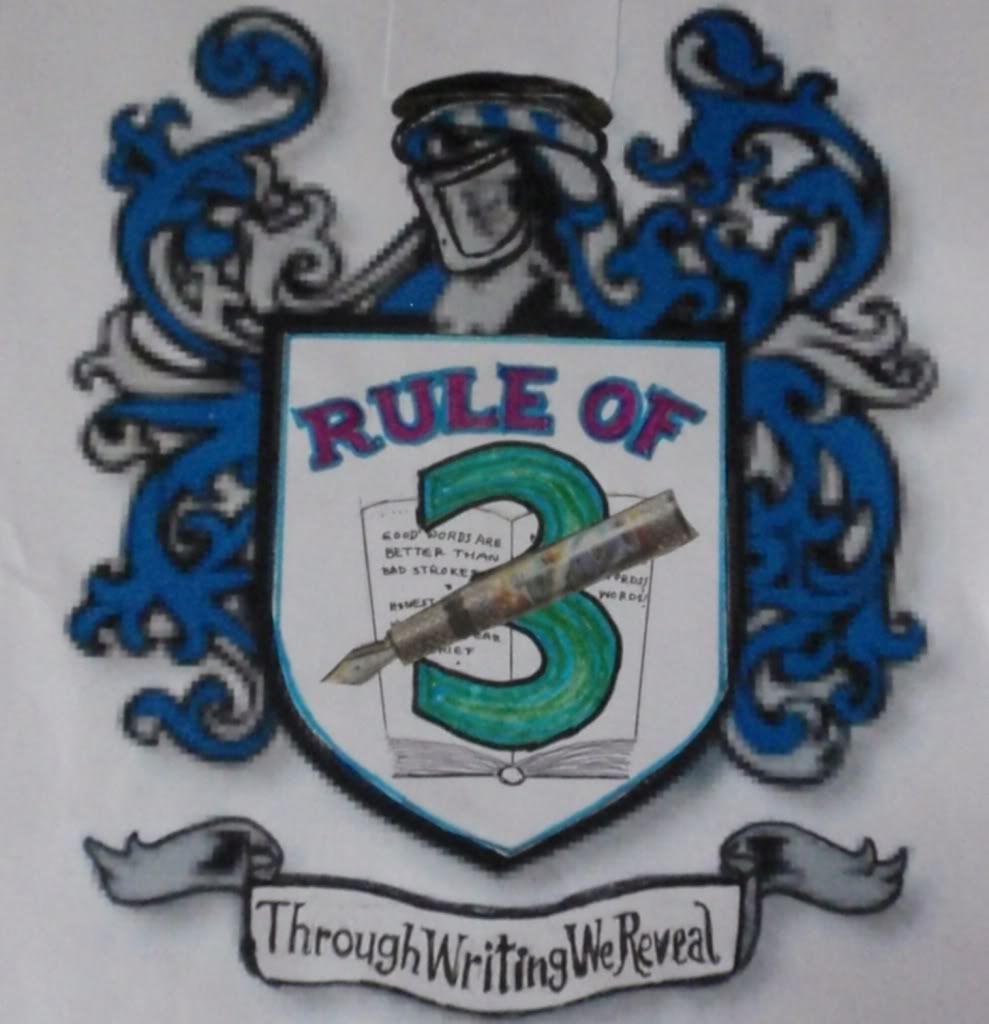 If there's one thing you'll learn about me is that I have a bad habit of leaving everything for the last minute. Of course I did the same here with this Rule of Three Blogfest entry, I finished it just a few hours before deadline, even though the prompts were out for weeks, and of course, I didn't have much time to edit it properly. Still, here it is, an entry for the Rule of Three Blogfest, the rules for which you can find
here
. The rules say the entry must be based on one or more of these prompts:
There is an argument
There is fear of an impending misfortune
There is a humorous circumstance
Someone might fall in love
I think I managed to use three of them more or less successfully, all four if you find the situation where a guy freezes when he sees a pretty girl funny, which is not really written to be funny (thinking about it now, I probably missed a great chance for some humour. That's what happens when I don't give myself enough time for editing). Another rule says it has to be 600 words max, which forced me to throw out most of the description, which is a pity. I finally ended up with 610 words. I hope these extra 10 words won't be held against me, I really couldn't bring myself to cut out anything more.
To quit all the jibber-jabber, here it is:

It was late afternoon when they caught site of a town in the distance. Hadelaide was relieved; they were walking since early morning. A sight of a place that promised rest, water, perhaps even food put some spring into her step.

At least she only had herself to carry. She couldn't imagine how tired Adrien must be, carrying Gray in his arms the whole way. It wouldn't have surprised Hadelaide if the little fiend got injured just so she wouldn't have to walk. The scrawny mage couldn't have weighted much, but carrying her in the hot desert sun was surely no picnic. Not that Adrien complained. That wouldn't be like him. His blue tunic was soaked in blood - that's one piece of clothing ruined beyond saving.

They reached the first of the houses. The few people in the street stared at them.

"Do you have a healer in this town?" Adrien asked a kid passing by.

The child pointed to a house further down the road.

A moment later they were knocking at the door. The door creaked open and a delicate young woman stood at the door frame.

"Yes?" she blinked at them.

Adrien didn't reply - he just ogled at her.

Hadelaide rolled her eyes and stepped up.

"Are you the healer?" she asked.

"Not a healer by magic, but I do have some knowledge of herbs and potions."

"Better than nothing," Hadelaide shrugged. "May we?"

"Yes, of course," it seamed that only now she noticed the bundle in Adrien's arms. "This way."

She took them into a large, sparsely furnished room. A bed leaned against the far wall, while an old cupboard and a fireplace shared the side one.

Adrien gently placed Gray on the bed. Their hostess pushed pass him to remove Gray's clothing, revealing a deep gash along her abdomen.

"When did it happen?" she asked.

Adrien was still looking for his voice, so Hadelaide had to jump in again.

"Early this morning. She overestimated herself. Again."

"You brought her just in time. A little longer and there would be nothing I could do."

She called for a maid to bring some hot water and clean towels. Acquiring a few bottles of balms and potions from the cupboard, she commenced cleaning and swathing the wound.

Gray stirred. "Adrien..." her voice was barely audible.

"I'm here," he took her hand.

"Darkness... Falling... He's calling them..." she mumbled.

"What?" Adrien frowned. "I don't understand."

"Beneath us... Calling them..." she went on.

"There's nothing to understand," Hadelaide sighed. "She's delirious."

"She lost a lot of blood," the healer concurred.

"Listen..." the muttering continued. "It's getting closer..."

Hadelaide frowned. He was holding her hand, looking more desperate by the minute. She couldn't bear watching him like that.

"Why don't we leave the healer to do her work in peace and go find something to eat. She's in good hands here."

He shook his head. "She needs me."

"There's nothing you can do here. You need rest," she pushed on.

"Hade, for Gods' sake!" he snapped at her. "You may not care about her, but I do. Go if you want, I'm not leaving her side."

"Fine!" she snapped back and stormed out of the room. "See if I care," she mumbled to herself as she opened the front door.

As soon as she stepped out, she realized something was wrong. There were mountains north of the town, or at least they were there when they arrived. Now, the only thing visible there was an enormous dark cloud, like an approaching storm. Only, she'd never seen a storm cloud like that.

"What in seven pits of hell is that?"